[Part 2]
(b) Compressor Blade Design/Manufacturing aspects:
This brings out the other elephant in the room – design and manufacturing aspects of the compressor stages.
Now, if we look back at the history of compressor stage evolution, there are mainly 3 generations:
1st Gen, Subsonic Level
– Achieved in the 1960s, the multi-stage compressor with tip Mach numbers < 0.8, with limited achievable compression ratios to about 17.
2nd Gen, Basic Transonic Level
– Achieved towards end of 70s (and early 80s), with tip Mach numbers between 1.0 and 1.1, achieving SPRs of around 1.4-1.5. These were also characterized by slight improvement in blade aspect ratio and double circular arc-profile blade designs (more on this aspect a little later). The avg temp rise per stage also doubled (from 21K to 42K, per stage) due to this increase in blade speed, and thus required improvement in compressor blade metallurgy. Most probably Kaveri compressors are of this gen.
3rd Gen, Adv Transonic Level with wide-chord blade design
– Achieved towards end of 80s (and early 90s), with tip Mach numbers trending towards 1.6, achieving SPRs of around 2.0. But the definitive characteristic of this generation is a wide chord blade design (with blade aspect ratios around 1) and multi circular arc-profile blade designs. Here again further improvement in compressor blade metallurgy is required as the the avg temp rise per stage went up to 65-75K. It's claimed that the compressors of the EJ200, F119 etc (with OPR of 30 achieved in only 6-7 stages) are of this gen.
So, as it can be seen in the above classification, talking about the compressor blade design (and manufacturing) aspects towards improving the efficiency (and the SPR) hinges on the following 4 basic dimension :
1)
Compressor Blade Speed
2)
Basic Blade Design towards low aspect ratio
(wider chord design) – helps in superior aerodynamics in handling the flow between the blades and the side walls and also in the reduced axial pressure gradient along the side walls
3)
Blade Geometry
– From conventional subsonic aero-foil design to a double circular arc profile to multi-circular arc profile
4)
Compressor blade Strength and Blade Loading
– to handle higher speed and rise in operating temp
So let's look at more closely at how each of these factors impacts the SPR (so eventually OPR as well). Pls refer to the following schematic: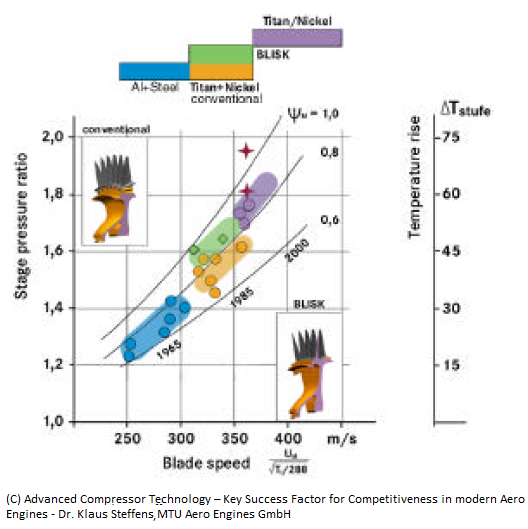 1 and 2) Effect of Blade Speed and Blade Aspect Ratio:
Not only does the above schematic amply demonstrate that the Stage Pressure Ratio can be increased by increasing the blade-speed but it also depicts that the rate of SPR increase (from the gradient comparison of the graphs) goes up quite significantly with the increase in an another parameter called Work Co-efficient. Furthermore, it also depicts that a blade speed of around the 400m/s (approx. 1.3Mach) combined with a Work Coefficient of 0.8-1.0 ensures the SPR value gets upto the 1.9-2.0 mark.
But this Work Co-efficient of the blades is dependent on the Aspect Ratio of the compressor blades – pls refer to the following schematic again:
As it can be clearly seen with the reduction of the blade aspect ratio the work co-efficient increases which, for a given blade speed, helps increasing the SPR (and thus the OPR as well) (refer to the previous graph as well).
So far so good i.e. the SPR (and thus the OPR, as well) of a compressor can be increased by having low-aspect ratio (aka wide chord) blades and by somehow moving towards a higher blade speed (i.e. from a subsonic to transonic to high transonic levels).
3) Effect of Blade Geometry:
But an interesting problem happens while trying to increase the blade speed to the transonic levels – the blade geometry starts playing spoilsport. A conventional highly cambered subsonic aerofoil blade design with high suction surface curvature started producing unacceptably high shock losses and a rapid fall off in SPR.
Furthermore this gets compounded with further spaced co-axial blade stages (a term called solidity – ratio of the blade chord length and distance between the concentric blades, in the same line).
So this was resolved with different blade aerofoil design of first the double circular arc profile and then to multi-circular arc profile – plus by spacing the compressor stages optimally the solidity was also increased in conjunction with this. Pls refer to the schematic below: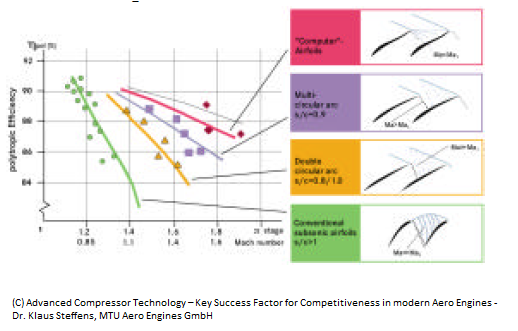 As it can be seen with the decrease in suction surface curvature brought about by the introduction of double circular (yellow graph) and multi circular blade (violet graph) profile designs, the efficiency fall can be arrested quite dramatically upto certain transonic blade speeds (before the fall becomes too steep) for e.g. Notice the diff in efficiency levels at 1.3M between subsonic aero-foil design, double circular arc profile design and a multi-circular arc profile design.
It is reported that there are certain multi circular blade aerofoil designs with zero-curvature (further limiting the supersonic expansion ahead of the shock and hence the shock intensity and the inherent losses) on the suction surface allowing blade-speeds to go upto M1.6.
4) Compressor blade Strength and Blade Loading:
Increasing blade tip speeds and lower aspect ratio blades comes with a resultant increase in centrifugal force implying mechanical stress (quite a bit) on the blade root and blade-disc fixtures. Furthermore increasing the blade tip speed etc will result in stage temperature increase as well (as shown in the graph at the top). Also low-aspect ratio blades will have addn issues of plate vibrations which can not only create critical blade resonances but also have potential coupling of vibrational excitations over several stages.
(ps: IIRC, Kaveri had to deal with 3rd order resonance issues which got identified only when it got tested in Germany at a very late stage, I think – not sure).
All of this requires addn blade strength and enhanced temp tolerance – pls refer to the following schematic to the impact on compressor blade loading, blade speed, OPR and number or compressor stages – which basically means higher the blade strength, more blade speed it can accommodate, increasing the OPR but thru lesser number of stages.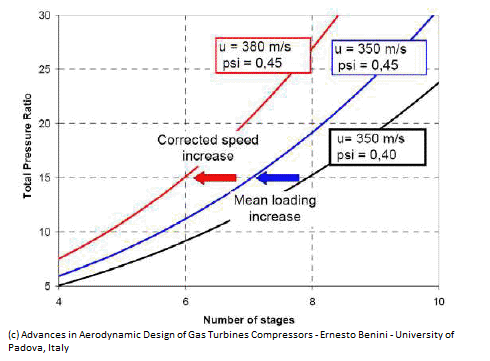 This then brings firmly into the territory of blisk manufacturing, higher thermal loading metallurgy, High speed milling, Electro-Chemical machining, Linear friction welding etc. etc.
Epilogue:
So what does all this mean wrt Kaveri/Kabini?
To increase the OPR from a 21-22 to a more contemporary 27-30 OPR would require progress on several cutting edge compressor technologies as well as improvement in TeT etc – and, more importantly, the compressor shortcomings shouldn't get overshadowed by the incessant wailing about BPR, SCB and low TeT etc (though equally, if not more, important and inherently linked aspects, no doubt).
The compressor level improvement in Kaveri/Kabini required, IMVVHO, are as follows:
1) Graduating to a high transonic blade speed regime of say 1.5-1.6M
2) Low aspect ratio (aka wide chord) blade design and manufacturing
3) Manufacturing (mass-level) capability of multi-circular arc profile compressor blades (just drawing a design of it on a paper wouldn't do)
4) To cater to the above three developing/acquiring manufacturing capability of increased blade strength and loading – by usage of blisk manufacturing, higher thermal loading metallurgy, High speed milling, Electro-Chemical machining, Linear friction welding etc. etc.
And last but not the least have proper CeeFDee capability on 3-D NS Flows and other such good and exotic stuff – to test and analyse compressors down to detailed inter-stage data out of the rotating system in order to understand the aerodynamic and vibrational behaviors.
Essentially, as the grand-mullah Enqyoobuddin Gas-turbini had sermoned many moons back, get hordes of DOO and PIGS onto this with freedom of destroying a couple of cores, with harsh timelines and supervision and see the results – PissBUH!!