Bart S wrote:

Suraj wrote: States have to independently arrange for their own stock. The latter is a lot less regular - Gujarat is fast out of the blocks but others haven't even entered the stadium.

Plenty of other states were out of the blocks just as fast but there is simply not enough supply. That is the crux of the matter.

To make matters worse the center has said that the stocks supplied by it earlier cannot be used by the states for their own vaccination programs, even temporarily and bureaucrats have apparently crafted some complex and impractical process around returning unused vaccines.
To me, that argument lacks enough data connecting the conclusion with the cause. Yes the literal visible situation is that vaccinations that are the states' domain is much fewer in number than central one - the latest data saying 900K by states, 1.6M by center, despite them getting 50% stock each.
What causes this ? How does the ordering get fulfilled ?
1. States get fulfillment in the sequence they place orders . This is somewhat unfair since one large order can block other states.
2. States get fulfilled in proportion to size of orders placed. Somewhat better but doesn't address greater urgency in some states.
3. Some combination of prioritization ?
Separately, how to states handle transport ? All the vaccines clear central QA at NCL Pune. India has a 28000-node fridge and freezer network supporting national immunization campaigns. These are all capable of 2-8 degree storage (regular fridge temp) and many can handle colder -20 freezer temp needs.
1. Do states leverage the central distribution network and vaccine cold storage network ? Or do the have their own ?
2. How do they transport vaccines from Pune or Hyderabad or elsewhere ?
3. How do host states avoid pressurizing manufacturers to prioritize them over other states.
The main reason I have not supported the states' demand for individual access (despite the center giving them their demand) is that it places a moral hazard on the manufacturers just like what Pfizer faces - the week Pfizer switches to country A, more people die in country B. Until May, the center used data from the states to determine how to allocate vaccines. When the wave hit and everyone suddenly wanted to be the highest priority, this became problematic.
The US faced similar pressures, but by the point the US started vaccinating in numbers, they were on the receding side of a second wave. This is one reason I mentioned we were unlucky - we started the process of investing in significant Covaxin capacity back in November (Bharat Biotech, IIL, BIBCOL, NIV all got funding then) but it was due to come online in May-July - BB has already scaled up from 5m/month in Jan/Feb to 15m in March, 20m in April, 30m this month and 60-70m in July
quoted by Krishna Ella
.
Please avoid the tendency to just instinctively respond with 20/20 hindsight that they should have begun capacity expansion earlier than November and gotten it ready by now and not July. There is no productive value to understanding the situation in such a response. All people are armchair experts with such hindsight, but it's not valuable to the purpose of understanding the situation in depth.
The reality is that unlike other countries that were hit by major waves last year, we have substantial vaccination cover of at risk group at this point: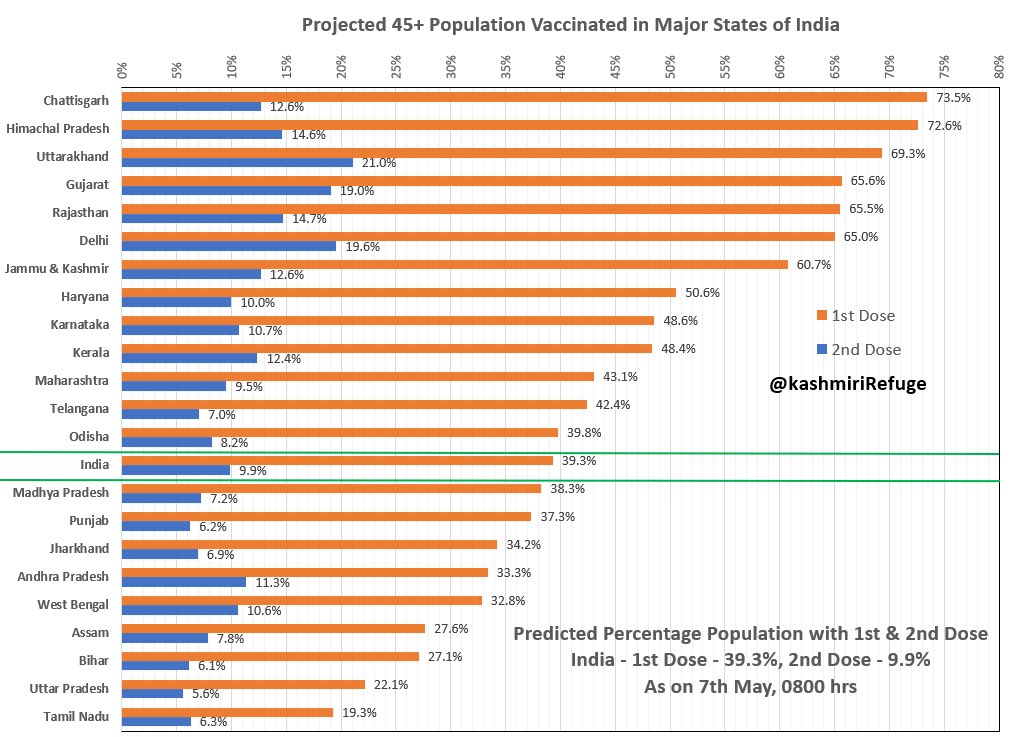 https://twitter.com/kashmiriRefuge/stat ... 96774?s=20