Varoon Shekhar wrote:Awesome. Nice to see such straightforward acknowledgement of Indic influence, and its very beneficial effects, by a southeast Asian himself. Too often, SE Asians are uncomfortable with dropping Hindu/Indic references, for whatever stupid reason. There are even Cambodians, for Pete's sake, who are not relaxed and facile with Hindu references. And this coming from a country with one of the greatest of the ancient world's monuments, Angkor Wat. American pop culture influence is fine, it can even be wonderful, but it shouldn't totally override the awareness of a very rich, Indian influenced history and culture. Something got messed up somewhere!
The same can be said about Indians, after all we are secular!
If we ourselves set a bad example, then what can we expect from others.
In 2003 the Balinese governor supposedly wrote to the External affairs ministry asking for help in protection and promotion of Hindu culture among younger generations in Bali in Indonesia. He was told to use the phrase "Indian culture" rather than "Hindu culture" since India was a secular country.
Though to be fair the Balinese hardly need the help of the secular buffoons inhabiting our country as they take their Hindu roots and rituals seriously including celebrations honoring Saraswati Devi in their schools without seculars & minorities howling like banshee's about the evil Hindu nazis.
http://maraalper.blogspot.ca/2013/01/sa ... emony.html
The Thai national epic is Ramkien (the Thai version of Ramayana), they have portrayals of scenes from Hindu puranas at Bangkok airport (we fill ours with prayer rooms for Muslims) such as the churning of the milk, they do not hesitate to have sculptures of Indra and other gods at their government ministry buildings.
The King was also well-versed in Sanskrit and Hindu literatures, including the Ramayana and the Mahabharata epics. He translated many stories from the two epics into Thai and also wrote many plays with the inspiration from Hindu literatures. Indeed, he was quite influenced by Rama, the incarnation of Lord Vishnu and hero of the Ramayana epic, so much so that he systemized and promoted the use of the name "Rama" as the (English) reign names of all Thai Kings of the Bangkok (Rattanakosin) era. His own reign was dubbed as "Rama VI".

http://en.wikipedia.org/wiki/Vajiravudh
A murti of Vishnu in the middle & the sculpture depicting the "Churning of Milk" at the Bangkok Suvarnabhumi airport: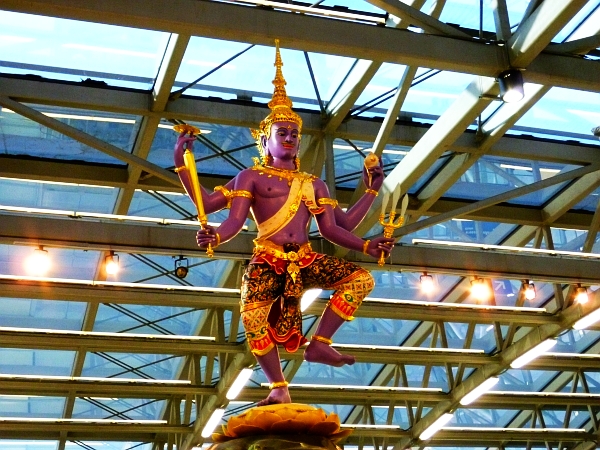 This is a point which we as the last of heathens should closely note. We need to take leadership of the pan-heathen system even as the heathen world seems to be on the brink. Unfortunately, this is not well- understood among Hindus today (only the vaishya luminary of the modern Hindu revival, Ram Swarup appears to have made note of this). Of course one may say that the heathen revivalist movements of Europe are flaky and even deeply flawed in some ways. While this might be true of some of them, there are those that are not, though few in number. In any case, this should not deter us,

and we can hardly complain we have shown little to speak about in this regard: rather than being the beacon of heathenism for the whole world, we are presenting ourselves as a secular state, thereby pouring water on the fire of our historic uniqueness of being the most complete heathen tradition around, even by standards of the ancient world.

So one of the key objectives of the Hindu revival is to not just stop the slide towards the end of heathenism but actually revert it on a global scale [Footnote 4].

http://manasataramgini.wordpress.com/20 ... -heathens/