The case where the surveyed people are role-played as decision maker and asked what to do apparently shows even stronger support for NATO.
Also there is a long tail of boomer suspicion of Russia.
Further:
https://www.pewresearch.org/fact-tank/2 ... ach-other/
"Democratic and Republican views of Russia followed similar trajectories – until Trump's election. For many years, Democrats and Democratic-leaning independents had slightly more favorable views of Russia than Republicans and GOP leaners, and opinions in both groups moved downward in tandem. After Russia annexed Crimea in 2014, for example, opinions dropped substantially among members of both parties. Following Trump's election in 2016, however, favorable opinions of Russia more than doubled among Republicans, while Democrats' views were mostly unchanged. In the Center's latest survey, the share of Republicans with a positive view of Russia fell to 27%, but it was still above the share of Democrats with a favorable view (16%)."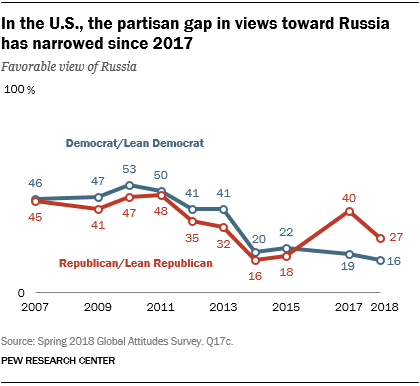 PS: Another significant thing to note is that NATO/Ukraine/Crimea is one of the very few issues where Republican Congress and Senate members are willing to contradict and go against Trump.