kiranA wrote:THe chart I showed is for delhi which charges around 27% - their are plenty of states which are in 20s including populous ones like UP that means they all are pretty much lower than centers. And those in 30s may just match about centers and only in very few states it might exceed centers . Even on Sep 4th 2018 State share in delhi is significantly less than center. Refer here :

https://www.mycarhelpline.com/index.php ... &Itemid=10

Remember the word you used in your previous post is "lions share" is states. Thats absolutely not the case. Majority share is unambiguously centers for much of the population of the country.

And while you are correct the states share is a percentage and will go up as prices raise. Note that converse is also true . When prices were significantly less as they were in previous years centers share of taxes as proportion are even higher.

The crux of the matter is very clear and unambiguous. The centers tax which used be around 9 in 2013 went up to a staggering 19 now - more than a 100% increase. And dont forget Center was enjoying staggering Rs 21 in july 2017 after which there was a Rs 2 cut. State taxes also increased but significantly lesser and while states increased their taxes to protect fall in revenue as oil prices were decreasing (as they tax as percentage) the center has no such reason as it taxes in absolute numbers. The only reason for centers is to collect more money from the citizen.

Center pocketing a bulk of this money is also true and certainly not absurd. Of the Rs19 or so center imposes Rs8 is basically "road and infrastructure cess " which goes directly to center supervision where center bureacrats where and to whom to spend the money. Another component is additional excise duty which again goes directly to centers pocket. The only portion that out of which center shares 42% (with all of the states by the way not the state from which tax was collected - more money goes to populous and poor states like Bihar and less goes to say states like kerala) is the basic cenvat which is about 6-7 rupees only.

Refer here :

http://www.jamewils.com/2017/09/decodin ... ax_21.html

. This is slightly behind times as center reduced taxes by Rs 2 and rejigged some in to road and infrastructre cess after this article was published.
I agree with you that the term "lion's share" is imprecise.
The rest of what you claim though, is factually off the mark. You have an axe to grind here, and that blinds you from finding any reference to your claims, it seems. The current period encompasses the
14th Finance Commission
, Each Finance Commission proposes a formula for fiscal devolution of revenues to states. Where a state needs resources in excess of what the formula provides for, they get additional grants in aid. It's a federal system that's been in operation since 1950.
If you have a problem with the way it's done, please make the effort to actually analyze the manner in which the Finance Commissions are implemented and then propose what you think is a better solution. Don't waste time here using terms like 'pockets the money', which ironically is an even worse error than my usage of lion's share - a term which can indeed be true if oil prices rise, because the central figure is a fixed rupee amount, but the state figure is not.
Between 2008 and approximately 2014, petrol prices were MUCH cheaper than the prevailing cost per barrel of crude. Do you know what happened to that shortfall ? That was the current government's job to fix. All the "excess taxation" of petrol the last three years, was used to pay off the accumulated debt of tens of billions of dollars by the PSU oil companies who could not pass on the price increases to the consumer. In graphical form: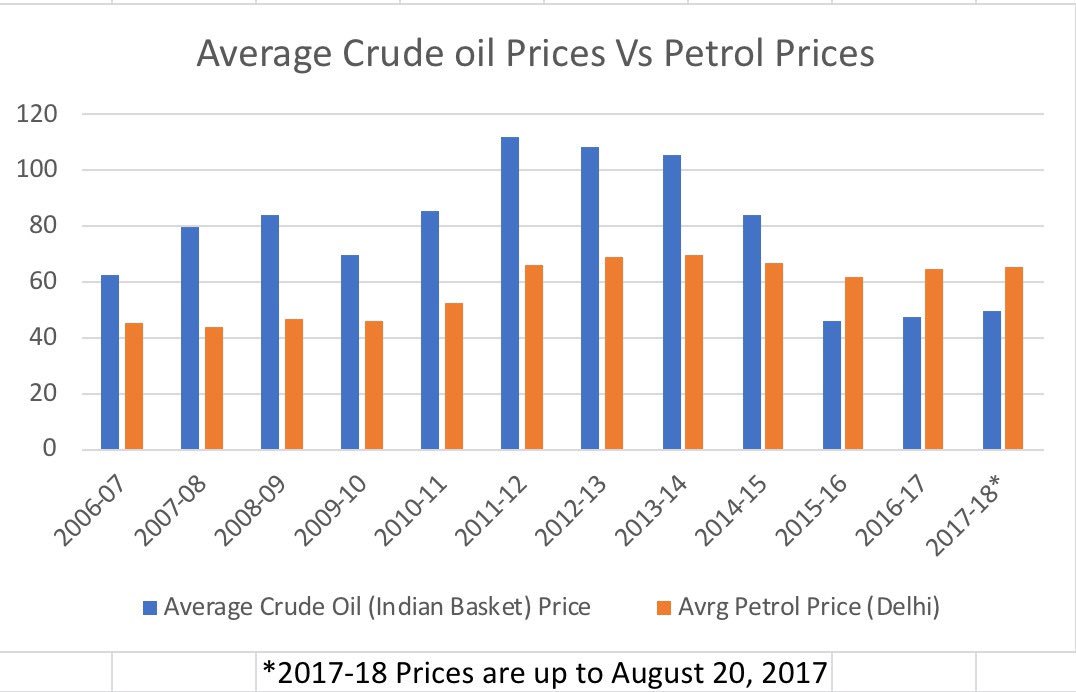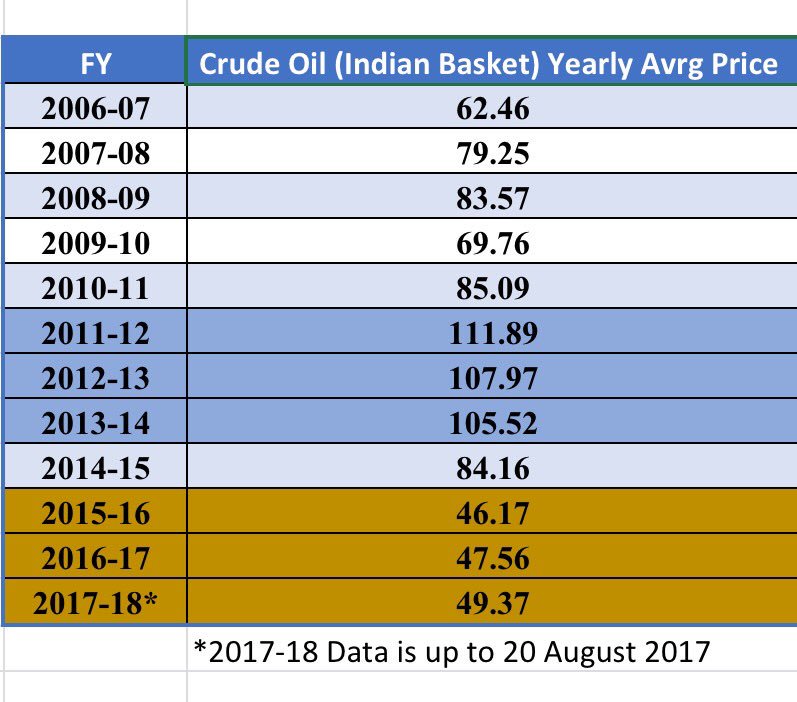 The difference between blue and orange bars in the first image is a debt the oil companies were running for YEARS, financed through oil bonds. How do you think that was paid down ? Would you rather the government just ignore it, so that the burden is passed onto our children and grandchildren instead ? Or would you rather the government do what it did, and actually pay down all that debt, despite Rs.70,000 crore (>$10 billion) just in interest on those bonds that GoI had to pay ?