Russian experts qualitatively serve the aircraft carrier "Vikramaditya" - Indian admiral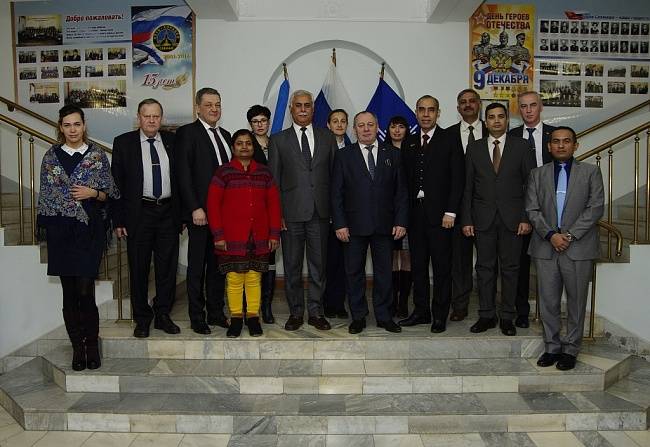 02/02/2018 16:04:12
*** In Severodvinsk, the parties discussed the post-warranty maintenance of the ship
Moscow. February 2. INTERFAX-AVN - After-sales support for the carrier ship Vikramaditya supplied by Russia to India is being carried out qualitatively, the aircraft carrier has been actively operating for five years, said the head of the logistics department of the Navy Vice Admiral Pabbi Gurjdeh Singh.

"Over the past five years, we have been very active in exploiting the aircraft carrier, it performs all its combat missions well and often goes to sea, which is a clear indication of the quality of Sevmash's work." I am pleased to note that the plant fulfills its obligations with high quality, - said the military commander in Severodvinsk during a meeting with the general director of Sevmash, Mikhail Budnychenko.

"Today, as part of the Navy (navy) of India - it's the flagship," - said the vice-admiral, who is quoted by the press service of Sevmash.

"The prospects for bilateral cooperation in post-warranty support for the aircraft carrier Vikramaditya were discussed at the meeting," the Interfax-AVN news agency reported on Friday recalled that the terms of the contract and the intergovernmental agreement determined that the Russian side (Rosoboronexport "and" Sevmash ") should provide full support in the operation of the aircraft carrier during the entire service life, which can be 40." Sevmash "carried out a deep modernization of the ship and handed it to the Navy Indy . in 2013.

Now "Rosoboronexport" and the company implemented a comprehensive after-sales support system:. by providing technical assistance to the Indian Navy in maintenance in ship equipment to the creation of coastal infrastructure deployment and repair of aircraft carrier As previously noted M.Budnichenko, in 2017, the company on line of military-technical cooperation has completed the work in full, "- said in a press release.

The aircraft carrier Vikramaditya (former heavy aircraft-carrying cruiser Admiral Gorshkov of Soviet construction) was handed over to the Indian Navy on November 16, 2013 at Sevmash, where the ship was being repaired and modernized. The contract for the modernization of the aircraft carrier was concluded with India in 2004.
http://www.militarynews.ru/story.asp?rid=1&nid=472729