BRFite
Posts: 235
Joined: 21 Dec 2016 18:48
Why does some of the Su-30MKI radomes have a different shade? Is there any qualitative difference?
---
In a first, Flying Officer Tejaswi Ranga Rao becomes Indian Air Force's first weapons systems officer
https://www.indiasentinels.com/air-forc ... stone-4293
26 June 2020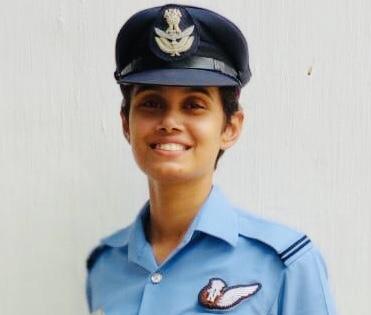 ---
Do not remember seeing (or might have missed) an interesting thread posted on Twitter. So I am just reposting the link.
Tweet thread by
Firestarter
---
BRFite -Trainee
Posts: 32
Joined: 01 Mar 2019 15:04
basant wrote:Do not remember seeing (or might have missed) an interesting thread posted on Twitter. So I am just reposting the link.

Tweet thread by

Firestarter
Really an interesting thread. Also goes to show how much an already amazing piece of hardware can benefit from local tech being developed for LCA. This is why local R&D becomes so so so important and essential.
---
I am just posting the thread by
Firestarter
here as it may be of interest yet again. Admins, please delete if this is redundant.
Firestarter @Firezstarter1
6:19 AM · Jan 20, 2020·

In surge ops, the IAF demonstrated almost cent per cent serviceability, high dispatch rates. Credit for this hoes to the troika of IAF, MOD, HAL and of course, the late RM Mr Parrikar who pushed for HAL to maintain spares stockpiles to raise Su-30 readiness rates. (2/n)

With further agreements with Russia, spares production is now being moved to more Indian firms allowing for more economical linger term maintenance contracts, and even higher readiness rates of the order of 75% and above. (3/n)

What makes the Flanker H so important to the IAF beyond its raw performance, is its combination of persistence, further aided by AAR (the aircraft can themselves carry Cobham UK pods), plus its phenomenal weapons carrying capability (8Tons) and above.

The design is particularly suited for upgrades even though it remains highly potent. Multiple accounts of its performance in India and the west, make mention of both it's long range radar, its raw performance and power, apart from the skill of the Indian pilots who flew them.

The Flankers boast a huge multi-role weapons package. In IAF service, while called Air Dominance platforms by virtue of their primary role, it mustn't be forgotten they field PGMs (Kh-29, KAB-500/1500 EO/LGBs, Griffin LGBs, Kh-59 ASMs), CMs (Brahmos land/antiship), Kh31s ..

The IAF is now adding an entirely new suite of homegrown weapons for long range strike. These include the 100km ranged SAAW (16 per Su30), 100 km, 1Ton glide bombs, and brand new ARMs - NGARM with wideband attack capability.

The domestic upgrades also include a more reliable RWR, to replace the original Russian and Tarang series unit, to be followed by an all new digital design currently in trials, which will be the defacto standard and can even detect LPI radars.

The other upgrades are a new domestic SPJ, based off of the work on the MiG-29 and LCA programs which saw a modular design with different power ratings being fitted to different classes of aircraft. The IAF is pleased with the fit on the MiG29 which bodes well for the Flanker.

A full blown Su-30 upgrade would also include a new radar, new large cockpit displays, either Indian or Russian, based off of the Su35. A new domestic IRST is in the works, and new engines would be added, funds permitting.

In terms of AAM additions, the Su30 will likely receive the ASRAAM, the Astra has been inducted already, addressing the IAFs gap vis a vis the SD10A/AMRAAM C5, but more inductions are also likely, with options such as the Derby ER, to newer Astra variants and the RVV-BD.

The Flankers are already datalinked, they have the Polyot which allows flights of Flankers to share targeting information, designate, attack. However, IAF is now standardizing on it's new Operational Data Link, Israeli hardware/Indian software, a far more advanced system.

With a mix of TVC, HMS and the R73/ASRAAM combination in the close in fight, plus the plethora of BVR options on the table, in service, the Flankers are bound to remain very dangerous opponents for a long while. The 1 mtr dia antenna makes the Flanker radar a potent VLO counter.

In fact, with newer P/AESA tech, higher power alternators, it is very likely the IAF Su30 upgrades will act as long range "eyes" for IAF strike packages in areas where AWACs coverage may not be feasible. And also pick up low observable targets at range.

The IAFs Flankers are nearest in terms of comparison to the F15 E Eagles operated by the USAF and the specialized Eagles used by the IDFAF. Its instructor to watch how the Indian aero industry is using the LCA to propel itself, the same way the Israelis used their Lavi, Kfir.

The original Su-30 MKI used the Mission computer, Display Processor, RWR and other avionics developed for the LCA Tech Demo. Today's Su30s will receive far more advanced systems again developed via the LCA, parallel programs, as upgrades.

The one thing that the IAF has yet not implemented in the Su30, but likely will, over time, are NLOS SATCOM datalinks. These will allow the Su30s to act as distributed mission controllers and soak up, retransmit sensor data they pick up.

India's UAV program under development has a SATCOM datalink, as does its AEW&C. While some of the hardware is imported, increasing familiarity with the tech., in the tactical arena will likely have the IAF move towards using its Flankers as battlefield, C3I managers.

HAL and its private partners are developing swarm drones. More options wre also likely to be available ex-import. The AURA program is picking up steam with GTRE looking towards firming up powerplant development. Latency advantages would support frontline Su30s as controllers.

Then there are the EW roles. The Su30s already carry huge SAP518 SPJs (likely to be replaced by a new Indian unit) and SAP14 escort jammers. With new facilities coming up, and greater experience in fielding high power AESAs, more domestic options are likely.

With a mix of EW, Spice, NGARM, SAAW, Astra - packs of Flankers would act as both Suppressive/Destructive platforms vs opponent AD assets, able to retarget on-the-fly. India recently launched its first ELINT sat for radar data. Has multi-spectral sats for geo-location as well.

In short, the Flanker fleet will remain the backbone of a revamped IAF fleet, able to act as the core of any offensive strike package.

None of this hardware would be as useful as it can be, without the IAF investing heavily in its frontline crews. The IAF now has Full Mission sims for its Flankers set up in AFB. Its Su30 carry ACMI and have participated in exercises across the west and in India.

---
Rs 10,730 crore for 12 Su-30MKI built by HAL - that's $1.4 Billion for 12 aircraft. Is this the Super Sukhoi upgrade - $120 million seems pretty step as the normal Su-30MKI built from raw material comes to USD $70 million a piece?
DAC approves capital acquisition of various platforms & equipment worth Rs 38,900 crore;
https://pib.gov.in/PressReleaseIframePa ... ID=1635916
Further, addressing the long felt need of the IAF to increase its fighter squadrons, the DAC also approved the proposal for procurement of 21 MIG-29 along with upgradation of existing 59 MIG-29 aircraft and procurement of 12 Su-30 MKI aircraft.

While the MIG 29 procurement and upgradation from Russia is estimated to cost Rs 7,418 crore, the Su-30 MKI will be procured from Hindustan Aeronautics Limited (HAL) at an estimated cost of Rs 10,730 crore

.
Looking at the cost these could be indeed the Super Sukhois with Uttam AESA. Another article from last week.
Govt to fast track acquisition of Su-30 and MiG-29 fighters for the IAF in face of the situation along the border
https://www.financialexpress.com/defence/govt-to-fast-track-acquisition-of-su-30-and-mig-29-fighters-for-the-iaf-in-face-of-the-situation-along-the-border/1996548/
19 June 2020
There is an agreement between India and Russia for upgrading the existing fleet of the Su-30 MKI. The aircraft need to be upgraded as from the time they had arrived in India were built to the current specifications and are Generation 4 plus.

In view of the current scenario along the Line of Actual Control, there is an urgent requirement to upgrade these aircraft to deal with the Chinese.

China has Su-35 and J-31 fighter jets.

The IAF plans to upgrade the existing fleet of Su-30 to the level of `Super Sukhoi' which will be loaded with advanced radars and weapon systems.

Also, there are plans to equip the aircraft with long-range stand-off missiles with a range of 300 km; adding more powerful EW and jamming systems, high-performance engines, multiple ejector Rack, and AESA radar.

Some of the Super Sukhoi Su-30MKI features
* It has been planned to improve the Air Frame with 6,000 flying hours
* With Chassis wheels braking system
* Will have up-graded AL-31F production engines with 5th gen capabilities
* There will be a modern digital weapons control system as well as more advanced anti-jamming features.
---
BRF Oldie
Posts: 4384
Joined: 26 Jun 2005 10:26
Aditya_V wrote:Rs 10,730 crore for 12 Su-30MKI built by HAL - that's $1.4 Billion for 12 aircraft. Is this the Super Sukhoi upgrade - $120 million seems pretty step as the normal Su-30MKI built from raw material comes to USD $70 million a piece?
No SS imho. It's prolly the entire spares and support package included. This is a relatively new trend with russki procurement, which earlier used to just provide unit cost.
---
What was the price HAL quoted for 40 Su-30MKIs a year ago?
---
Su-30MKI w/ SPICE
---
Is Su 35S fundamentally different to operate (and spares etc.) from Su 30 MKI? If the 'Super Sukhoi' upgrade is pegged at Su 35S standards then it makes sense to buy the new variant which is lightweight, has more composites in the airframe and a new updated engine. Indonesia has not inked the deal yet. The production line is busy and we can divert brand new Su 35Ss to India.
---
The order of 12 is being made in HAl with significant Indian input, Su-35 is pretty different.
---
BRFite
Posts: 443
Joined: 16 Feb 2019 17:20
Not the Rambha but cool to see nonetheless.

---
---