Philip wrote:True, no one will show gheir full hand in peacetime.Even our Akula has none of the exotic sensors seen on Ru Akulas for wake detection, etc., some whose true purpose is still not known.Even the tubes for special decoys and hard- kill systems have been blanked off in our Chakra.However, some of these may come with the second sub.

I think sev. previous AWST and other articles have shown the integrated conformal radars, el-op sensor, etc. for the FGFA.L.The new rengine has been developed and by 2020 the first batch of 12 will have been delivered according to Ru reports.2025 is thr datd when the Franco-German stealth bird is supposed to fly.It looks v.futuristic, a better overall shape than even what is proposed as the US's next stalth bird of the UK's Tempest.
Doing an eyeball analysis of placeholder graphics done up for public consumption will be ill-advised. The two efforts are targeting different capability and maturity dates. The Franco-German program is a study and they are looking to collaborate on a program. This will continue and hopefully, soon there will be a deal and some money to begin working on it and its sub systems. The UK is looking for a partner (most likely) and may end up joining this program or find other avenues. Neither of the three countries can likely afford a NG product on their own without serious compromises elsewhere (other capabilities and systems).
The US, on the other hand, is invested into two next-generation fighters and has serious money to back that up ($10+ Billion over the next 5 years in case of just one of those two efforts). It invested in key enablers such as engines, directed energy research for a fighter aircraft, next-generation sensor technology etc in some cases close to a decade ago and will soon (next 2-3 years) be bench testing some of these things (Next Generation, clean sheet Adaptive engines for example). Other than that these two efforts are happening completely in the dark and things are likely to remain that way for the foreseeable future. The only reasonably good way to follow interest/plans etc is to look at budgets and there is a boatload of money (budget line item snapshot below) being poured into a NG fighter by the USAF which is about 2 years ahead of the US Navy so expect the latter's investment to also pick up.
What's going on with America's next fighter designs?
Below is the budget document for the USAF's 6th generation fighter effort. This excludes money spent on the effort prior to Fiscal Year 2017, and also excludes any money spent on the three adaptive engine efforts (ADVENT with GE and RR, AETD and AETP with GE and P&W). If you add all that money to the amount budgeted here you get close to $13 Billion spent/budgeted between 2012/13 and 2023 on "enabling technology development and advanced prototyping". This upfront investment in technology is required because without it you can't get to a new program as enhanced capability does not appear out of thin air but requires years, and in some cases, decades of lead time and investment. You identify low maturity, high value technologies, invest in them, prototype them and mature them to a point where you decide whether they are mature/ready/appropriate enough to roll into a new engineering program. This requires focused investment and some level of risk as quite a few bets you make will not pan out.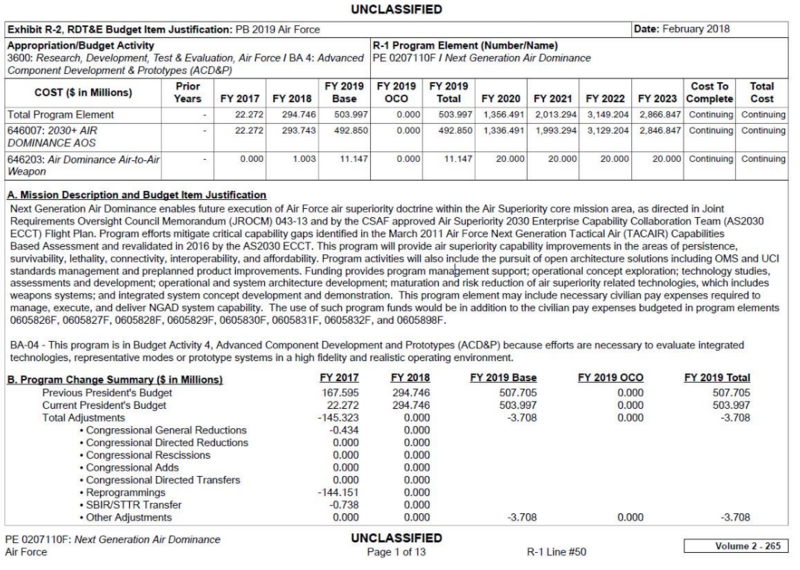 Unless the Europeans partners (whichever combination may eventually work out) want to pursue a path similar to the one they followed earlier with the Eurocanards (i.e. package existing mature technology into a new airframe) they cannot avoid having to make similar investments to develop enabling capabilities for next generation systems. No one has yet found a way to bypass hard S&T and R&D investment which is the building block of any future capability be it a more effecient civilian airliner, or an advanced next generation combat aircraft.