---
Elliot Kazan, 90, of Dix Hills, helped develop popular fighter jet
Elliot Kazan, known as "the Father of the Warthog" for his role in developing a popular military jet in use for more than 40 years, has died, his family said....

After briefly working for Boeing, Kazan took a job working for the Republic Aviation Company in Farmingdale, which later became Fairchild-Republic Co.
It was while working there that Kazan was named project manager for the development of the A-10 Thunderbolt II. Kazan led a team of almost 500 designers and engineers in the conception and creation of the fighter plane, which was nicknamed the "Warthog" because of its bulky and ungainly disposition.

"There was a major in the Air Force . . . . He saw the first couple of ones," Kazan told Newsday in 2003. "He said, 'Geez, that thing is as ugly as a warthog.' And it stuck."


---
BRFite
Posts: 591
Joined: 19 Oct 2009 06:40
Location: www.ravikarumanchiri.com
Contact:
What the Heck Happened on the International Space Station?
The puzzling story of a mysterious malfunction 250 miles above Earth
Marina Koren
Sep 8, 2018
... this week, they tossed out the micrometeoroid explanation. After examining the hole, officials determined the impact was likely made from the inside of the capsule, said Dmitry Rogozin, the head of Roscosmos.

"It is too early to say definitely what happened. But, it seems to be done by a faltering hand," Rogozin said earlier this week, according to TASS, Russia's government-run news agency. "It is a technological error by a specialist. It was done by a human hand. There are traces of a drill sliding along the surface. We don't reject any theories."

And the spookiest part? They don't know whether the hole was made when the Soyuz was still on Earth or while it was in space.

Rogozin vowed that officials will "find the one responsible for that, to find out whether it was an accidental defect or a deliberate spoilage and where it was done—either on Earth or in space."
---
Meet Owj: Iran's First Indigenous Fighter Jet Engine
For a country that used to import even a toothbrush before, Iran has been making giant strides in industry and indigenously produced components. Recently, on the country's Defence Industry Day, President of Iran, Hassan Rouhani, had unveiled the first domestically produced Turbojet engine "Owj" (Zenith), in a prestigious ceremony attended by press officials, industry experts, and scientists of the nation.

The President of Iran has described this achievement as a bridge between industrialised nations and developing countries. The "Owj" turbojet engine is one of the most complicated components produced for the aviation industry in Iran. It was built without any foreign technical assistance in regards to its hardware and software.
The "Owj" is one of the most sophisticated products to be produced in Iran and will go a long way in decreasing the country's dependence on foreign technology and aircraft engines. The engine comprises of 14,000 individual components and can operate at an altitude of 50,000 feet in various climatic conditions. Its approximate takeoff weight is around 10 tonnes which, is more than sufficient to power the multirole fighter jets of the Iranian Airforce
Do you think countries like China or Pakistan will look to Iran for its engine needs?


---
Pratt and Whitney has demonstrated 6%-10% increase in thrust and 5%-6% reduction in fuel burn under an initiative funded jointly by the USN and USAF. for the F-35s F-135 engine. They are rolling these upgrades into a Growth Option 1.0 for the baseline F-135 and offering it for early block-4 capability which will be fielded in the early 2020s. With modifications to the Rolls Royce Lift Fan this could also translate to a 5% increase in lift thrust resulting in higher TO and bring-back weight.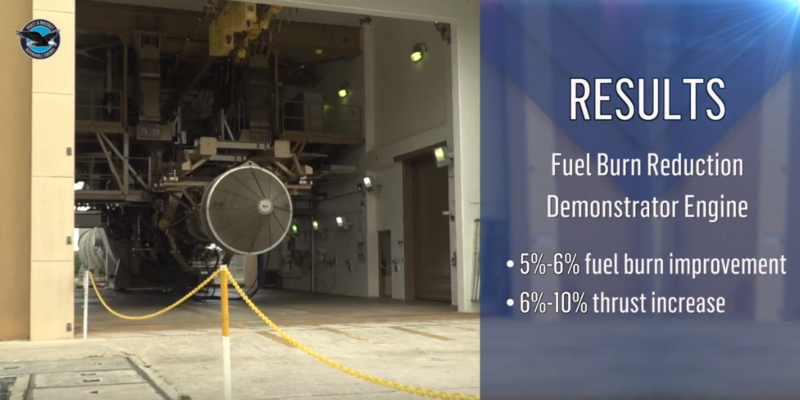 ---
A war is taking place in India's neighborhoods that we barely have any knowledge of.
Yemen is being turned into another Syria / Afghanistan war zone.
India is surrounded by military dictatorships, communists, islamic terrorists, hoard of refugees, wars, ethnic violence..etc.
Its a bad neighborhood all round.
------
Leaked Memo Shows US Overlooked Mass Civilian Deaths In Yemen To Preserve Arms Sales
https://www.zerohedge.com/news/2018-09- ... arms-sales
---
With Space Fence up and running, and Long Range Discrimination Radar being constructed for a 2020 IOC, Lockheed now has claim to the two largest Gallium Nitride based radars in the world (Space Fence 36K T and 86K R modules while LRDR is 24K T/R Modules - Both operating in the S Band).
AFA 2018: USAF to begin testing Space Fence by end of 2018
Lockheed Martin has completed construction of its Space Fence radar on Kwajalein Island in the Marshall Islands and has been tracking space objects using the full-up radar as the company prepares to hand over testing to the US Air Force (USAF) later in 2018.

Space Fence, designed to track space debris in low earth orbit (LEO) and geosynchronous earth orbit (GEO), conducted its first track in February using a smaller-sized aperture as part of a risk-reduction effort. Lockheed Martin has scaled up the radar and has been tracking space debris full-up since May, Matt Hughes, manager of Space Fence business development for Lockheed Martin, told Jane's

.

"We have been receiving operationally relevant data and our goal has been to use that data in the integration and test phase that we are in currently to shake out the remainder of requirements that we have to verify," he said.

Once Lockheed Martin works through the remaining items to integrate and the remaining requirements to verify, it will transition Space Fence to the air force for development, test, and evaluation (DT&E). That effort will be led by the USAF's 45th Test Squadron out of Eglin Air Force Base, Florida.Upon completion of DT&E, Space Fence will move into operational T&E (OT&E) led by the Air Force Operational Test and Evaluation Community.

"We are looking to turn this capability over to the air force in mid-2019," Hughes noted.

A cornerstone of Lockheed Martin's risk-reduction effort has been to stand up an integration test bed in Moorestown, New Jersey. There, Lockheed Martin built a small piece of the large array that is on Kwajalein. The test bed provided a place to conduct early integration and testing of Space Fence's hardware, software, and firmware. The company was also able to verify 60% of its system-level requirements before setting foot on Kwajalein, Bruce Schafhauser, programme director for Lockheed Martin's Space Fence, told Jane's

.

"It has all come together now in an operating system and we have another 40% of the system-level requirements to verify on the island before we turn it over to the government for their seven months of testing," Schafhauser said.

Although the radar will be operated from the Space Fence Operations Center in Huntsville, Alabama, a team of maintainers will remain on Kwajalein to tend to the radar and operate it from the island if necessary. Those maintainers were also able to take advantage of the integration test bed to check things associated with false detections as well as how maintenance of the radar should be done, Hughes added.

"We were able to work with the air force to bring them into the integration test bed and […] walk through technical manuals associated with how to maintain the system," he said. "Doing that early and often from a prototype standpoint has reaped benefits on the back end in terms of schedule certainly, but also everyone being on board with how it is going to be maintained."

The integration test bed also gave the air force an opportunity to do early runs of the test cards that it plans to use, and gave cyber-security personnel time to do cyber-risk assessments on the prototype before they got to Kwajalein, Schafhauser said.

Space Fence is divided into transmit and receive sections. From the transmit side, it represents the world's largest phased-array radar. It contains 36,000 elements each with a high-powered amplifier using gallium nitride, which allows for greater efficiency, higher output, and a higher duty cycle, Hughes said. The receive side has more than 86,000 elements, each doing element-level digital beam forming, he added.

"That provides us tremendous capability to be able to work transmit and receive in concert; ultimately receiving thousands of beams at one time," Hughes said. "As objects [10 cm in size] come through the fence in LEO, we will be able to catch almost all of [them], and that radar architecture allows us to do a lot of things simultaneously." For example, users can simultaneously operate Space Fence and task volumes of objects from LEO all the way up to GEO anywhere within the field of regard.

"We are able to form initial orbit determinations, very accurate orbits, because we are able to track all the way out to the field of regard. The more accurate track of an orbit you have the better you can predict where it is going to be. Ultimately then you can shrink down your covariance on conjunction assessments and try to avoid collisions and really decrease the number of false alarms," Hughes said. "When [satellite] owner/operators have to move out of the way based on certain conjunction assessments, that costs money and it takes time. We are trying to help accurately catalogue objects and we are able to do that through that radar architecture."

Building a second Space Fence in Western Australia is still a possibility, Hughes noted. The USAF exercised an option on Lockheed Martin's contract for a site survey in Western Australia. That effort has just completed.


---
There are now 2 Multi-spectral versions of the Advanced EOTS that are being offered for F-35 block-4 upgrades. The first one which has also been prototyped adds a Short Wave IR channel to the existing MWIR channel while the second one adds a LWIR channel instead. Both also upgrade and increase the aperture size while still fitting in the same EOTS space, weight and power. Both Advanced EOTS have been prototyped and I guess one will be picked up by the JPO in the coming months.
From what is known (final configuration will be known only by the year-end) block-4 of the F-35 will feature new and upgraded EODAS sensors built by Raytheon (current ones are made by Northrop Grumman), new Mission Computers (4 x processing growth over current 3F baseline), upgraded APG-81 (Big SAR and other modes plus hardware upgrades for obsolescence), possibly higher thrust engines, hardware and software upgrades to the AN/ASQ-239 Electronic Warfare suite and new weapons (SDB-II, Meteor, AARGM-ER, JSM etc), OLED cockpit displays, . There is also talk about switching to GaN antennas for the MADL apertures as early as 2020. Automatic Ground Collision Avoidance System (Auto-GCAS) is also a capability that is coming to the F-35 but I believe it will formally be cut into the system before block-4 drop, as an interim upgrade much earlier.
Lockheed Martin Proposes IRST Upgrade For F-35; Aerospace Daily & Defense Report Sep 18, 2018 , p. 3
Steve Trimble
Lockheed Martin has revealed an internal project focused on significantly improving the ability of the F-35 to passively detect other aircraft at a long distance by their heat signature.

The company has developed a prototype of a next-generation Electro-Optical Targeting System (EOTS), a belly-mounted camera tasked with identifying targets in the ground and in the air, says Frank St. John, executive vice president of Lockheed's Missiles and Fire Control business area.
The current EOTS system uses a mid-wave infrared camera, a type of sensor normally associated with detecting targets on the ground rather than a long distances in the air. Lockheed also supplies infrared search and track (IRST) sensors for the Boeing F-15 and F/A-18E/F, which uses a long-wave infrared camera to passively detect other aircraft.

Adding a long-wave infrared sensor to the existing mid-wave sensor would give the F-35 a package optimized for detecting targets on the ground and in the air, St. John says.

"Certainly long wave provides more capability [in air-to-air mode]," St. John says. "So you might look out a long-wave system or even a dual-band system to get the benefits of both."

Interest among the F-35's customers is growing for a new sensor with improved IRST capability. The F-35 also uses the Northrop Grumman APG-81 radar to detect airborne targets, but the signal emitted by such a radar can be detected. An IRST, by contrast, is a passive sensor, collecting the heat-signature of a target only. Although an IRST's ability to determine a target's range is limited by the capacity of the sensor's laser rangefinder, a group of F-35's can share targeting information with each other, allowing them to determine the range of the hostile aircraft by triangulating the data.

"The idea of developing a completely passive kill-chain is very attractive," St. John says.

The company has completed a prototype of a next-generation EOTS using internal research and development funds, he adds. It is being offered to the F-35 Joint Program Office for insertion in the Block 4 modernization program.

"We think we've retired the risk to the point now where it's really a question for the customer to decide at what point do you want to take it over," St. John says. "If it's a priority for you, program the dollars and we're ready."

To usher the next-generation EOTS into production, Lockheed estimates a 30-36 month development process would be required, followed by a test program.

The prototype was designed to limit changes to the overall F-35 system, consuming the same size, weight and power (SWAP) of the existing EOTS.
"We're living within the SWAP that we got," he says.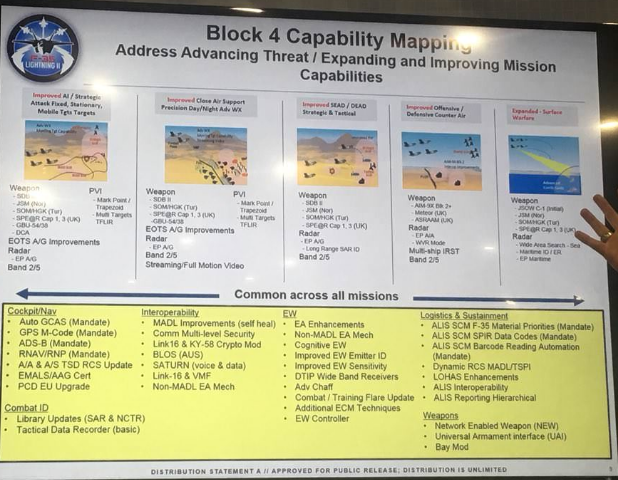 ---
F-35b may not be our needs, (but is the only option for replacing Sea Harriers). F-135 engine is something we will ape for! Indian interest deep in 1.2 billion hearts will see F-35 tech.
---
Three distinct families of Air-Air missiles being worked upon by the USAF/USN and the labs.
-
LREW
- Long Range Engagement Weapon (likely involves Raytheon and possibly Boeing)
-
CUDA/SACM
- Medium Ranged highly agile weapons (Lockheed funded CUDA themselves and are now being asked to flight test it, and Raytheon is funded to develop its own solution for the same requirements)
-
MSDM
- Miniature Self Defense Munition for close in self defense (Lockheed proposed KIKM and Raytheon is currently funded to develop its proposal)
CUDA is moving to flight testing:-
USAF Funds Lockheed's 'Half-Raam' Missile Flights
The U.S. Air Force has funded a flight test demonstration program for Lockheed Martin's Cuda air-to-air missile, pushing the concept forward more than five years after it first appeared, the company says.

The flight tests, funded by the Air Force Research Laboratory (AFRL), will evaluate how the Cuda compares to the range and terminal phase maneuverability of the Raytheon AIM-120 Advanced Medium Range Air-To-Air Missile (Amraam)

, says Frank St. John, executive vice-president of Lockheed's Missiles and Fire Control business area.

Sometimes called the "half-raam",

Lockheed designed the Cuda to achieve similar range to the AIM-120 in a package about half the size, allowing existing fighters such as the F-22 and F-35 to carry twice the number of air-to-air missiles internally.

The "AIM-120-like" range of the proposed Cuda missile may seem counter-intuitive in such a relatively small package, but Lockheed insists it's possible. After launch, the AIM-120's rocket motor boosts for only several seconds, then uses momentum and control fins to maneuver as it nears the target.
The half-sized Cuda also is a boosted missile. To compensate for the reduced volume of propellant, Lockheed adds a divert and attitude control system (DACS) derived from the ground-based PAC-3 missile. The DACS inserts small rocket thrusters in the nose of the missile. Combined with aft-mounted control fins, such thrusters could, in theory, render the Cuda more effective than the AIM-120 during the terminal-phase of a long-range intercept.

In addition to the F-22 and F-35, Lockheed also views Cuda as playing a potential role in the Air Force's Next-Generation Air Dominance (NGAD) program. Lockheed's Aeronautics business area, with its Skunk Works division in Palmdale, California, leads the company's discussions with the Air Force on the NGAD area, but Missiles and Fire Control also participates with a suite of technologies, St. John says.

In addition to new missiles, Lockheed also is evaluating how to pair such weapons with a range of sensors, including infrared search and track (IRST).

"There's actually AFRL funding now for moving Cuda along. There's also sensors — distributed aperture sensors, IRST sensors being funded as well," St. John says. "We're doing the collaborative [operational analysis] work with the folks in Palmdale about how do those sensors and weapons enable a future air dominance platform. I can't get into too much more than that because of the security classifications."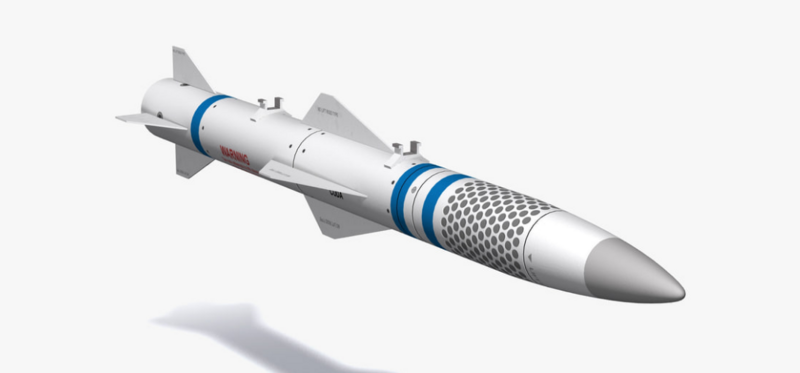 ---
---